Reclaim your Womb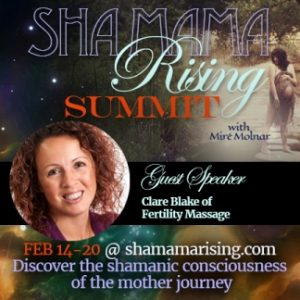 I am really excited to be taking part in the Sha Mama Rising Summit, hosted by Mire Molnar. Mire has gathered together a beautiful group of women who are at the forefront of bringing women into connection with the spiritual side of their motherhood journey.
This virtual conference is completely FREE and takes place from the 14th-20th February 2016.
Reserve your spot NOW and be ready to share in the spiritual wisdom.
Once you have listened to my talk, you'll find these resources handy!
Reclaim Your Womb Resources
Fertility Massage
Practitioners can be found throughout UK and Ireland, Canada and Australia.
 The Power of the Menstrual Cycle
Alexandra Pope & Sjanie Hugo Wurlitzer have created an online programme to give women a step by step guide to understanding the inner wisdom of the menstrual cycle.  Visit Here
Code Red by Lisa Lister
This book will hilariously take you through your cycle, in a way that you have never experienced. Lisa also provides you with a Cycle Repair Kit to help with charting and much more. EVERY woman needs this book and then leave it for your partner to read!  Visit Here
Yoni Steams
This link will give you an overview of yoni steams.
Packs can be purchased HERE
Anna Verwaal – From Womb to World
Visit her website to read more about the effects of our conception through to birth, and watch her Ted Talks too.  Truly fascinating information.