Meilisa Ramadhani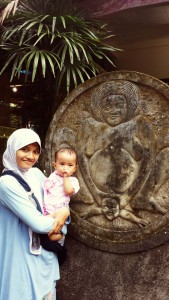 Meilisa is from Jakarta, Indonesia and already helps women as a doula, a pre-natal yoga teacher and hypnotherapist. Meilisa will be bringing Womb Massage to these women that she already works with, and will be able to help heal them in the post-natal months.
Here is my interview with Meilisa…
Can you share what it means to you Meilisa to be able to do this course?
I'm feel so blessed to be able to do this course. I feel like a dream comes true that I will be join this course. I'm very thankful to you Clare that I can join this course by sponsorship. Thank you so much.
How do you feel this course can help you?
I'm sure this course can make a change for me, for my life and also the people around me. This course is one of my journey. I will practise to my friend who need the fertility massage, and also I will share to my community about fertility massage, so we can learn together.
Do you feel this course and therapy can bring you more employment?
This course maybe can help employment for me. Because after join this course I have one or more skill that I never have before. In my country, I never heard before about the same course like this. So maybe I can improve the skill after join this course to help others.
Do you have anything else you wish to say?
The last but not least, I want to say thank you to you Dear Clare. Thank you for believe in me and give me a chance to join your course. I'm feel blessed.
Donations
Currently,  I am so close to having raised all the monies needed to sponsor all 4 women. Any additional funds raised now will help pay for transport & supplies for them. If you wish to help sponsor these women, you can do so here
** Please note, that I do not gain anything financial from this fundraising. I am waiving all course fees **