5 page spread in Australia's leading Massage Magazine!
I am delighted that my article on Fertility Massage has been published in AAMT (Australian Association of Massage Therapists)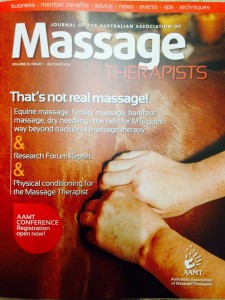 Places are already filling up on the practitioner courses in Sydney & Brisbane, which is fantastic news for those on a fertility journey in either Sydney or Brisbane, knowing that they will be able to receive this feminine and nurturing therapy by August 2015!
Ill be holding one day Self Help "Heal the Womb" workshops in Melbourne, Sydney & Brisbane – a beautiful opportunity to learn the self help massage, receive a Womb Blessing and journey through a guided visualisation.
To read more about the one day workshop, click here
If you are a therapist,  you can either attend the 4 day Fertility Massage Practitioner Course or why not learn the simple, yet divinely effective Rebozo on a one day workshop? For details of all the courses and workshops, please click here