Pre-Conception Retreat – 28th & 29th April 2016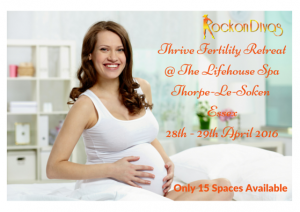 I'm excited to have been asked to join Gloria Halim founder of Rock On Divas, a lifestyle coach and Consultant Gynaecologist, Dr Marcellina Coker to host this fabulous 2 day retreat being held at The Lifehouse Spa at Thorpe-Le-Soken in Essex.
On this 2-day retreat, you'll enjoy:
2 days, one night full board

2 workshops based on The Thrive Technique ™ by Gloria Halim

1 talk on improving fertility and questions to ask by Dr Marcellina Coke (Consultant Gynecologist)
1 talk on the benefits of Fertility Massage by myself, Clare Blake.
Healthy foods and fresh juices daily (included in price)
Two yoga classes, one on each day (included in price)
Choice of a fertility massage session with Clare or Spa treatment one per person (facial, reflexology or massage included)
1-2-1 (20-minute) consultation with Gloria
Personal time to walk the grounds and beautiful gardens of LifeHouse, use the gym or just be and do whatever you'd like (click on the link to visit LifeHouse website to get a view if where you'll be staying)
Goody bags to take home with you
Entry into our competition to win one of the following products from Tribest: Slowstar Juicer (value – £399.99) or the Soyabella Nut Milk Maker (value – £129.95)
And best of all, time to relax and decompress in a fabulous, safe environment

You'll restore your calm, reconnect with your wellbeing, eat scrumptious, nutritious food and enjoy gentle stress relieving yoga classes. You'll leave feeling alive, energised, emotionally confident, relaxed and holding all the secrets to falling pregnant naturally. You will even make a few new friends along the way.
 Other Events
If you can't make it to the Retreat, there are 2 other events, hosted by Gloria at Rock On Divas, that I would like to share with you.
Tuesday 1st December, Gloria is hosting a webinar, you can find out all about it here or on Thursday 10th December, Gloria and Marcellina will be holding an evening workshop in Green Park, for more details click here